Name: SWE-DE
Location: Sweden
Overview
Dimitris Tsakiris is the Owner of SWE-DE. A former CEO and sales director of both Swedish and German companies, Dimitris set up SWE-DE.com. His company now guides Swedish small and medium-sized enterprises (SMEs), within the B2B sector with technical products, to establish sales, marketing or even a subsidiary in Germany. Says Dimitris:
"If you want to grow you have to go abroad. That's true for both individuals and corporations, especially coming from small countries like Sweden. Over 30 years of experience in this sector and Germany as a market, means we can offer our clients a "whole program" solution. From the initial market investigation and analysis, to finding distributors and partners, we can support all the way through to providing interim sales management for a newly established company.
To be successful in the demanding German market you need tailor-made services for your products and company. There is no one size fits all. That's why we always start with a deep analysis of your company and your targets for expansion, and why our approach is very much hands-on, based on our extensive experience of sales, marketing and management delivery.  We often work together with the Swedish Chamber of Commerce and other relevant organizations and partners such as lawyers, native translators and so on.
Our vision is helping Sweden to improve the trade balance between the two countries.
Trends and Tips
1.  In your opinion, what are the key challenges in Germany and indeed Europe as a whole?
The business context is now changing in Europe and indeed on a global level. Key factors influencing these changes are being driven by Brexit and indeed, the trade war between USA and China. As a result, Swedish companies are finding that some markets are harder to get into and, although always lucrative, the Scandinavian market on its own is not big enough. Many Swedish companies are therefore looking to Germany as their next market.
Germany is the biggest market in Europe and the fourth biggest in the world. At the same time the geographical vicinity to Sweden also makes it easier to visit and to ship goods, without having to make an initial investment during the planning phase.
Made in Sweden is a very strong trademark amongst German companies and the cultural differences are not as bold as to, for example, Asian countries.
It is important to understand the German customer and his needs and preferences, and to adapt your literature, website and ultimately your products to fit in this market against the tough local competition. Very often, because of the proximity, and indeed cultural similarities this rigour is overlooked, and SMEs looking for positive market entry can face challenges because of this.
2. Do you have any practical examples to contextualize this?
Out of eagerness to establish sales in the country, a client I am working with currently, started by employing salespeople in Germany with instructions to sell the "Scandinavian solution" of their product. Nobody could understand why there was little or no sales growth. We were brought in. A survey we initiated showed that German companies work completely differently in this particular segment. We made recommendations accordingly, which the customer quickly took on board – with the result that sales are now around the €2 million. The take-away from this is that it is essential to check the facts, norms and preferences of your market sector before you start investing in people and offices.
.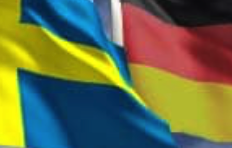 3. Can you identify any particular barriers?
Language is a big one. In the words of the old chancellor Willy Brandt;
"If I am selling to you, I speak your language… If I am buying, dann müssen Sie Deutsch sprechen".
This is a typical pitfall for Swedish companies entering the German market. German companies will want to communicate in German, particularly as regards technical and commercial issues. You must adapt to that.
Also, often companies are not prepared enough, not really committed and don't have the budget needed. Another issue we come across is lack of patience. The result, poor sales performance. It takes time to establish contacts and make your first visit and sale in the German B2B sector. However, if you are prepared to be patient and find the right guidance, it is possible to shorten this process. Remember, it takes time to build up networks and relations in another country!
4. Do you see any particular market opportunities?
One of the biggest industries in Germany is car manufacturing. The industry is in a restructuring phase. This is due to the "Dieselskandal", and a more general focus on alternative fuels to allay concerns around climate change and urban pollution. However, along with the machinery industry they are still the driving force of the European economy. Supplying these industries is a tough game, it does pay off in the end though, as the market has no choice but to develop positively.
Secondly, Germany is not particularly digitalized  when compared to Sweden. That always comes as a bit of a surprise to Swedish companies. After all, Germany is the high-tech capital of Europe. Currently the government is struggling with targets around digitalizing the public sector – in schools and in everyday life. This means that there are huge opportunities for tech companies able to solve these kinds of problems both in terms of hardware and software.
Thirdly, as sustainability and climate change is a big issue all over the world, and Germany stands for 2% of the global CO2 emissions, Greentech and Cleantech companies have an enormous potential on this market. This is also due to the fact that Swedish companies have had a far greater focus on sustainability than their German peers; with the result that they have an excellent reputation as being leaders in this sector.
And finally…
If you want to succeed as a Swedish company in Germany, you must set the right goals alongside a firm strategy which will help you meet them. Seeking out the right kind of help will allow you to be properly prepared while working towards market readiness, listening carefully to your customers for example. As illustrated above, you should also be aware of the fact that, although we are geographically close our cultures are similar, there are differences and plenty of scope for faux-pas, especially in the business arena. The first impression is of extreme importance and you should try to make it the best you can!
As you can see, there is significant market opportunity – good news for SWE-DE and our current and prospective clients – as more Swedish companies want to get a piece of the German 'market cake'. Germany is a big and stable market, and for us, our particular market specialization means we can provide the insight needed to help Swedish clients succeed. By keeping our focus on Germany only, we are able to find the right solution.